Sawit Kinabalu Walking The Talk On Conservation With Their Sg. Pin Conservation Area Management Plan (Camp)
16 March 2021
Shangri-la's Tanjung Aru Resort and Spa Kota Kinabalu
The signing and handing over of Sawit Kinabalu Sdn Bhd (SKSB) Sg. Pin Conservation Area Management Plan (CAMP) is part of the Sabah Forestry Department (SFD) initiative through the Sabah EU-REDDplus Project in mainstreaming conservation through public-private partnerships in Kinabatangan. The signing ceremony was officiated by the Chief Conservator of Forests, Mr Frederick Kugan and Sawit Kinabalu Group Managing Director, Mr Bacho Jansie, at Shangri-La's Tanjung Aru Resort and Spa in Kota Kinabalu.
This much-anticipated signing event was long overdue because the Covid-19 pandemic marks the start of Sawit Kinabalu official roles in continuing to implement their conservation activities in Sg. Pin Conservation Area as stipulated also in the MoU signed with SFD back in October 2017 during the International Heart of Borneo (HoB) Conference.
This is a momentous milestone set for the conservation efforts made by Sawit Kinabalu Group which is the main project partner in Sabah EU-REDD+ Project, "Tackling Climate Change through Sustainable Forest Management and Community Development" in Kinabatangan. This Conservation Area Management Plan which is specifically customized for the private landowner, which was prepared by the Team-of Experts from the Forest Research Centre in Sepilok, is an invaluable future reference for other oil palm companies venturing into conservation in line with the internationally recognized IUCN's Other Effective area-based Conservation Measures (OECM).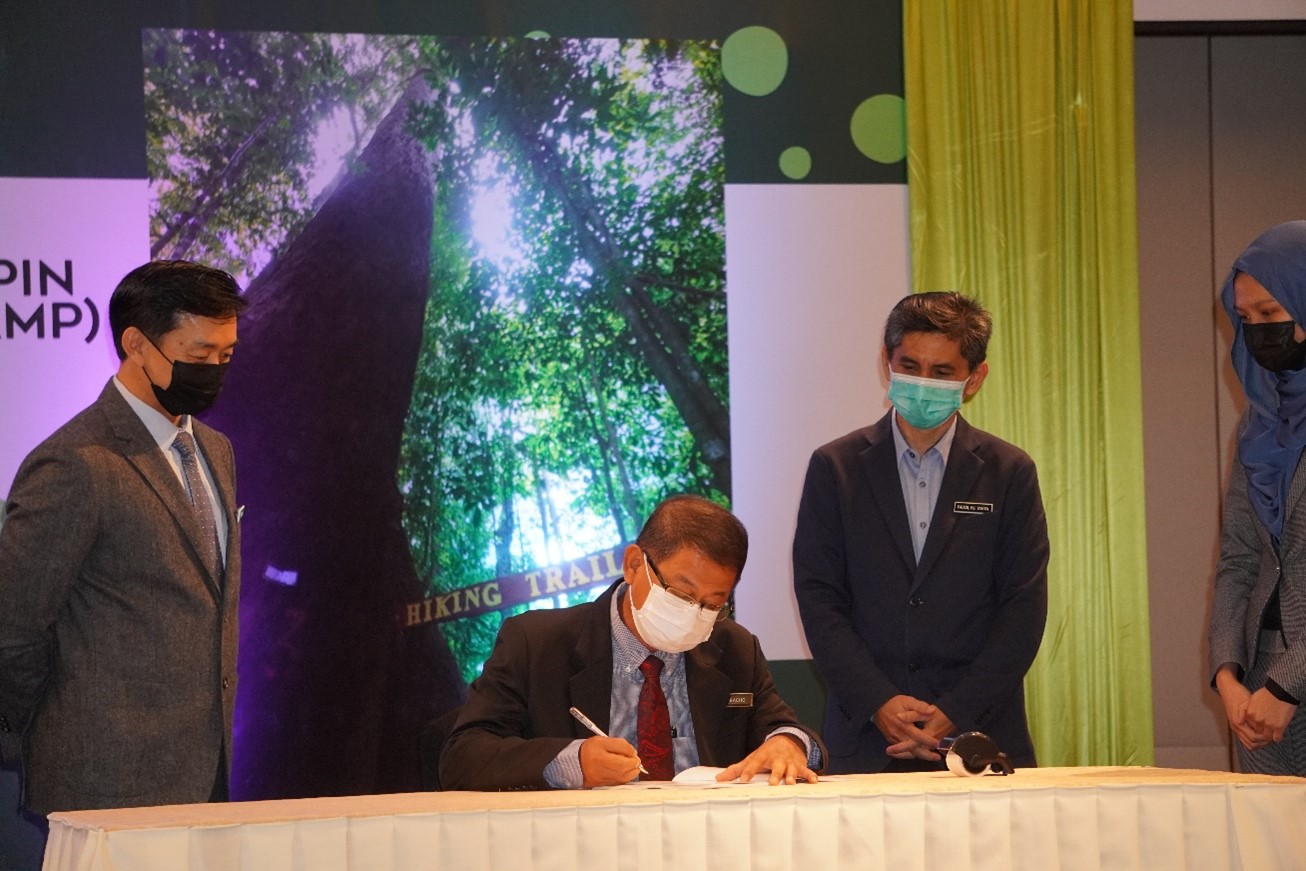 The EU-REDD+ Project is an 8-year project (2014-2021) funded by the European Union (EU)-with the specific objective to contribute to the sustainable and low carbon development for Sabah in its (3) REDDplus demonstration sites in Gana, Kota Marudu; Kinabatangan and Kinabalu Ecolinc area.
According to Bacho during his speech, Sawit Kinabalu will establish a special unit called Conservation and Biodiversity which will further forging ahead on its conservation efforts to achieve the goals and objectives in the Conservation Area Management Plan for forest conservation and environmental protection in developing more sustainable arrangements.
Since year 2003 till now, Sawit Kinabalu's Conservation team has planted more than half millions of trees not only for reforestation but also for habitat enrichment. "We are looking forward to work with relevant organizations such as UMS, TABIN, BORA, WWF for future conservation projects starting with the upcoming Bagahak's Wildlife Corridor, a project featuring elephant conservation around Bagahak estates in Lahad Datu region, he added.
On the day itself, six recipients from Sawit Kinabalu were awarded the Honorary Forest Ranger by receiving Authorization Card and Certificate from the Chief Conservator of Forests (SFD), Encik Frederick Kugan.
It is hoped that with the Sg Pin CAMP, the high conservation value forests within Sg. Pin Conservation Area dubbed as the "Heart of Kinabatangan" is well protected and managed in decades to come and creating a role model for the other oil palm industry players to contribute towards successful and long-lasting conservation efforts in Kinabatangan "Corridor of Life".
" Sawit Kinabalu Sdn Bhd is a premier investment arm of the state government in the oil palm industry. Our Vision is to be premier Sabah based oil palm producer & property development."
Jalan Kelapa Sawit, Off KM4, Jln Tuaran, 88300 Kota Kinabalu, Sabah